Digital technologies, a real lever for growth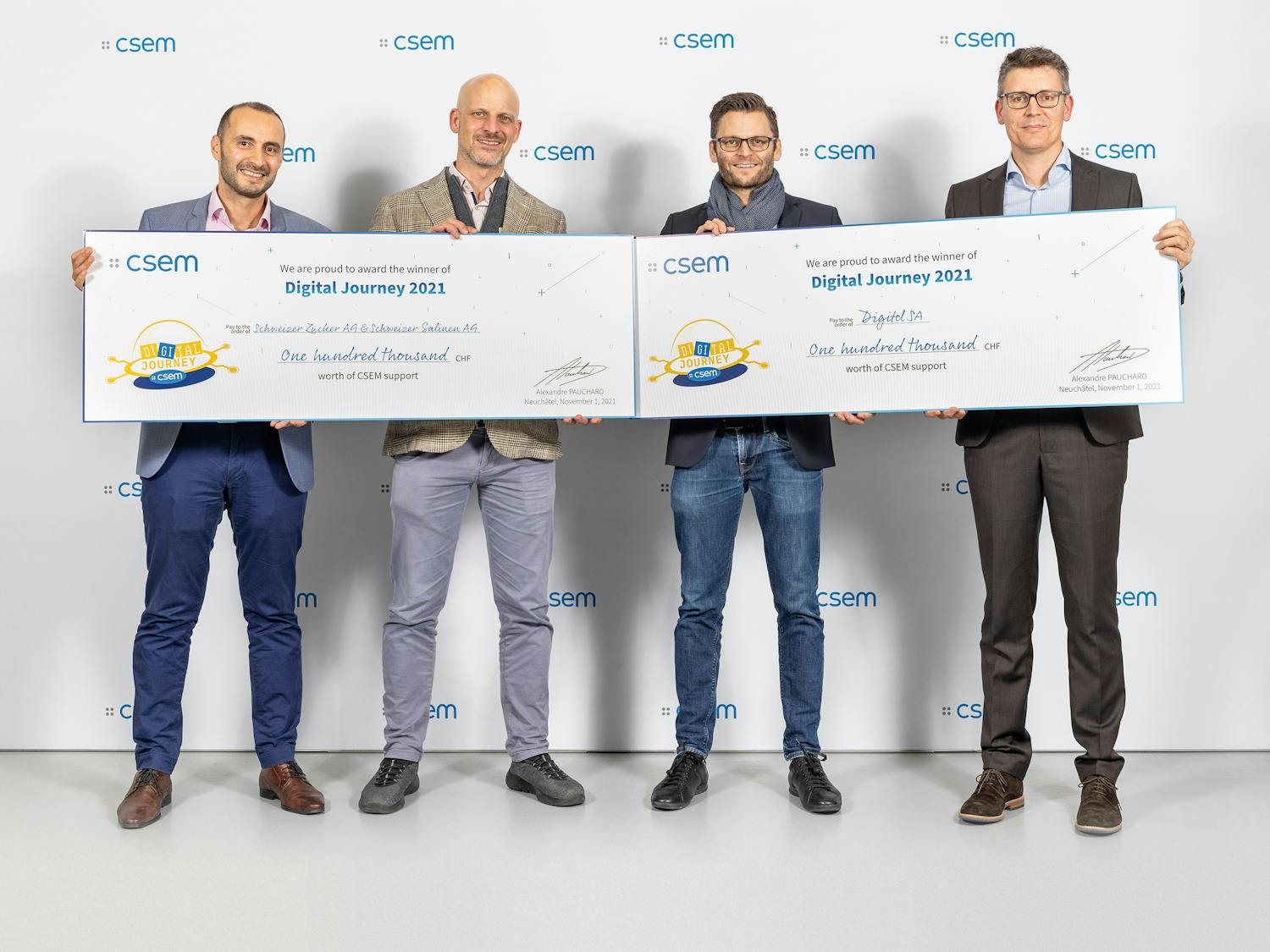 © Reto Duriet
To progress in the digital age, the economy needs connected, miniaturized, autonomous, and intelligent systems that consume very little power. And thanks to our heritage in microtechnology, and to its application for our partners in precision industry, CSEM possesses exactly the skills required to develop those systems.
Digitel, Swiss Sugar and Swiss Saltworks won the 2021 CSEM Digital Journey contest. From the left to the right: Bahaa Roustom, CSEM, Michael Breitfeld, Swiss Sugar and Swiss Saltworks, Marc-Etienne Jan, Digitec SA, Alexandre Pauchard, CSEM
At CSEM, we strive for quality, are passionate about precision and controlled energy consumption, and aim for technical and scientific excellence. These ingredients are essential in allowing innovation to flourish throughout the multidisciplinary field of miniature connected systems. Today, this competitive mix of tools puts us in the privileged position of being able to respond to our industrial partners' growing need for high-performance digital resources to advance their business models.
We are, however, about more than just developing hardware systems. For more than two decades, we have been successfully developing embedded artificial intelligence (AI) algorithms—chiefly multitasking neural networks—capable of processing and integrating real-world information into miniaturized, low-power systems.
With our microtechnology and microelectronics heritage and strong AI know-how, we strive ceaselessly to perfect our intelligent, connected, predictive, and miniaturized decision support systems, thus ensuring the competitiveness of our industrial partners. Through our annual CSEM Digital Journey Award, we help Swiss SMEs realize their digital transformation projects by inviting them to draw on the knowledge contained in our digital technology portfolio.