AMX Innovation Award for CSEM & RUAG Space
The Innovation Award celebrates and honors the most exciting tech developments in the Swiss Additive Manufacturing (AM) world. This award was presented to CSEM and RUAG during the AMX Night in Lucerne. Thanks to our expertise in advanced, AM-based design and the achievement of very complex shapes enabled by additive manufacturing, a novel design concept featuring built-in electrical wires and connectors was successfully applied to redesign the rotor of a Slip Ring Assembly (SRA) intended for space applications.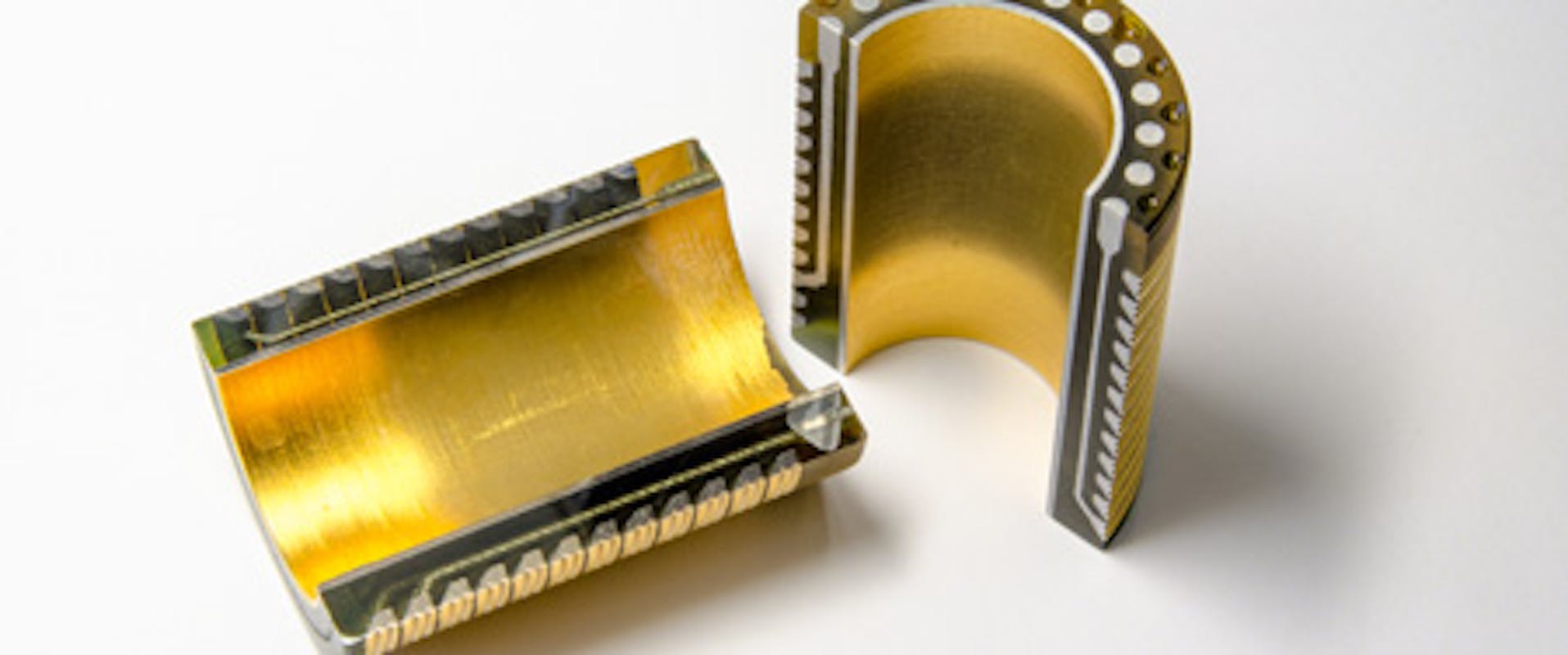 A promising design and manufacturing process
RUAG Space and CSEM presented—at the AMX Expo in Lucerne—a new design and manufacturing process for SRAs. SRAs are electrical continuity devices that transfer electrical signals from a stationary member to a rotating member. In space, SRAs are recurring elements in satellites, where they can be found in solar arrays' drive mechanisms, antenna pointing mechanisms, momentum gyroscopes, and other instruments. They are also used on Earth for a broad range of applications, including video surveillance, machine tools, and motion simulators.
Today, the production of SRA rotors is a long and delicate process involving a large number of components and production operations. Moreover, the number of components increases with the number of electrical channels to be included in the rotor, and—unsurprisingly—the manufacturing and assembly effort required tend to increase accordingly, as does the probability of reliability issues.
For several years, CSEM has been investigating certain new capabilities of AM with the aim of helping industries to redesign their products according to a holistic approach that takes into account structural integrity, mass saving, design freedom, production speed, cost savings, and other elements.
Cheaper and more efficient
By combining AM fabrication methods with conventional post-processes CSEM and RUAG have rethought the design of SRAs, particularly to reduce manufacturing and assembly costs while improving the overall reliability and repeatability of the end product. Finally, the redesign enables a mass decrease in the rotor and avoids the use of cables, which are part of the current physical architecture. Furthermore, the overall design and manufacturing concept was generalized so that it can be advantageously applied to other electromechanical products.
3-D printing, advanced design, and optimization can therefore make it possible to speed up and improve the development of high-performance, complex products without increasing their design and manufacturing costs. Based on a preliminary analysis performed at the end of the project, the cost reduction objective of 40 percent is considered realistic.
This project was funded by the SERI's Swiss Space Office (SSO).