Winners of the CSEM Digital Journey Award 2019
CSEM is pleased to announce that it has awarded its 2019 Digital Journey prize to Federnfabrik Schmid, a company based in Oetwil am See (ZH) that specialize in the manufacture of industrial springs. The judging panel were impressed by the innovative idea of the winning company to create "intelligent" springs, which are capable of managing and their own wear-and-tear. An unexpected break in an industrial spring can cause machine breakdowns or costly production interruptions for a company. This new spring would make it possible to avoid these issues and help improve productivity.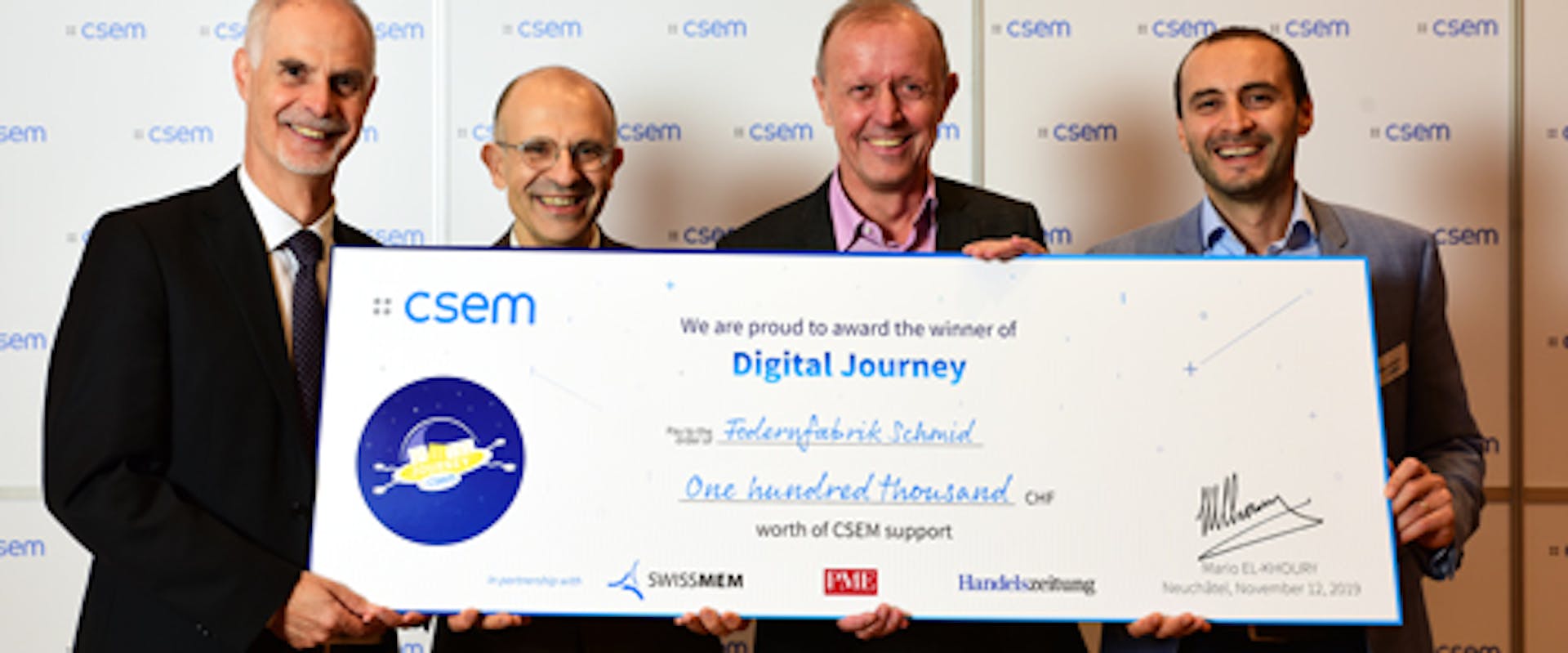 With an extensive background in technological transfer and know-how in advanced technologies, CSEM is offering the winning company digital expertise and technical support to enable it to complete its "smart" spring project. This support will aid in consolidating the company's market position and help it get the most out of its new digital product. The amount of this financial support amounts to CHF 100,000.
Mario El-Khoury, CSEM's CEO, Georges Kotrotsios, a member of CSEM's Executive Board & President of the judging panel, plus the other members of the panel, extend their warmest congratulations to the winning company. They wish to assure the winners of their full support to help successfully manage their digital transformation through the realization of their project. The teams and experts at CSEM are delighted about this upcoming collaboration.
CSEM introduced its annual Digital Journey Award in 2018, to encourage and support Swiss SMEs in transitioning towards and developing the digital tools necessary to stand out in an increasingly competitive environment. The competition is open to companies with less than 250 employees and who's financial and human resources fall short of meeting the challenges digitization poses.
The judging panel wishes to highlight the exceptional quality of the projects submitted by all the finalists, and are particularly keen to emphasize the potential societal impact of Vivent's project. CSEM will endeavor to support each of the other finalists in their search for funding, so that they may continue their digitization journey.
The core objective of CSEM is to ensure an efficient transition between the world of research, innovation and market production. The company occupies a unique and essential position within Switzerland and beyond. Specialized in microtechnologies, nanotechnologies, microelectronics, systems engineering, photovoltaics and information and communication technologies, CSEM can count on the skills of its approx. 500 highly qualified employees, spread between its Neuchâtel Center and sister sites in Alpnach, Muttenz, Landquart and Zurich.