Take the digitalization Space Shuttle!
Encouraging Swiss SMEs to take advantage of digitalization. That's the goal of the CSEM Digital Journey. Reserved exclusively for companies with fewer than 250 employees, this competition is based on around ten digital technologies made available to SMEs. A jury of experts will select the most promising project, which will benefit from support worth CHF 100K from CSEM.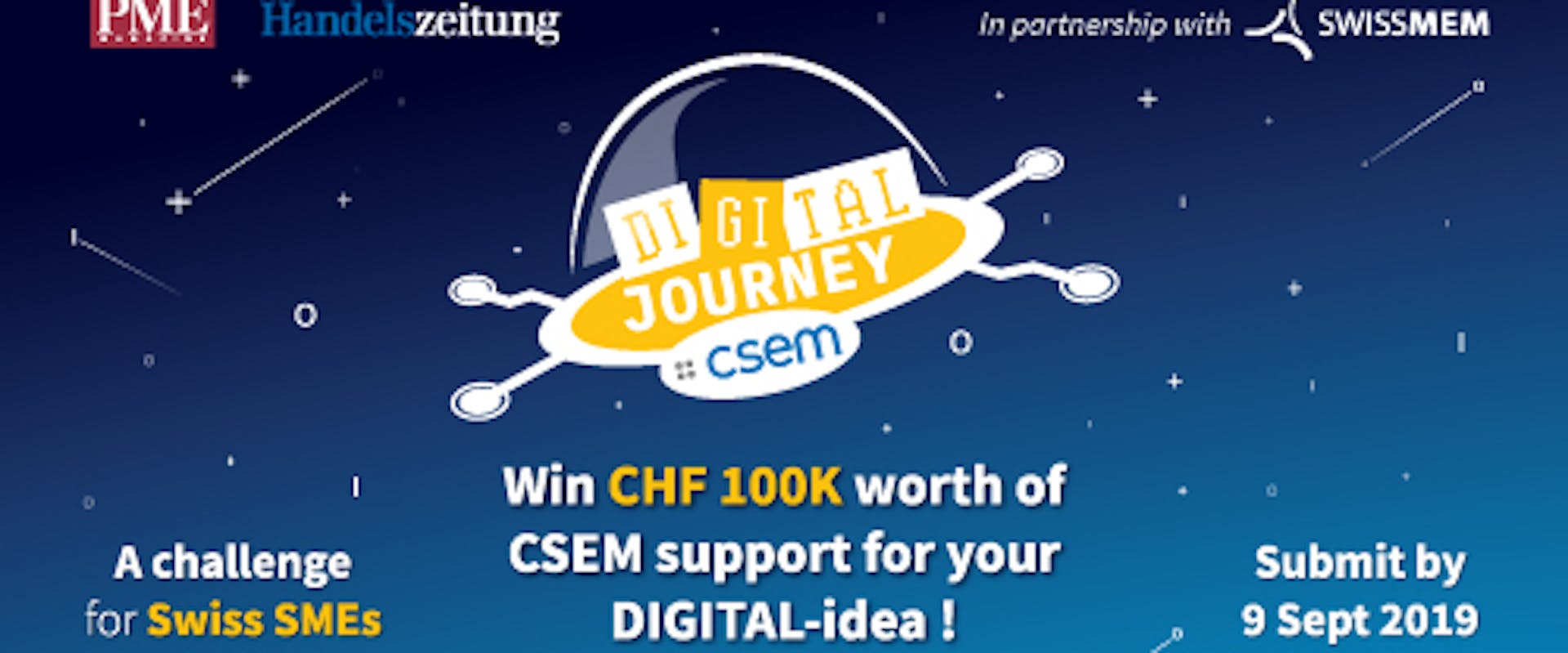 The current push towards digitalization represents an enormous challenge for SMEs. Although some of them have jumped on the train, many are held back by the specialist expertise required and the high level of investment necessary, as was noted in a survey performed by the Zurich University of Applied Sciences in Business Administration. With the CSEM Digital Journey, our objective is to facilitate their digital transition. This competition will enable one of them to benefit from technological support for their digital project, worth CHF 100K.
From artificial intelligence for industry to the monitoring of vital signs
Basically, the research and Development organization – with five sites in Switzerland – will make ten or so digital "bricks" available to them. These proven technologies – from the Internet of Objects through Industry 4.0 to personalized medicine – have already contributed to the success of start-ups such as AVA or Biowatch. They are there to inspire entrepreneurs heading up SMEs, with the hope of producing new, innovative Swiss technologies. The CSEM Digital Journey is more than just a competition to reward one single company – it's also designed to create more awareness, as digitalization is above all a rich source of opportunities for SMEs.
Take the digitalization Space Shuttle!
Companies with up to 250 employees can discover the technologies available and submit their idea by 10 September to the address www.csem.ch/digitaljourney. Following an internal pre-selection stage designed to check that the submitted projects match the competencies on offer, a jury made up of seven Swiss experts from the domains of technology, politics and economics will select the five finalists. The name of the winning company will be announced on 7 November at CSEM's Business Day. By supporting the selected project, CSEM hopes to inspire other SMEs? to set off on their own digital journeys. Good luck!