Making life more comfortable for wheelchair-using individuals with a 3D-printed medical-grade cushion
(En anglais uniquement)
CSEM has teamed up with the Swiss Paraplegic Foundation (SPS) in Nottwil, Switzerland, to create a custom 3D-printed medical-grade cushion for wheelchair users. Compared to traditional air-filled orthopedic cushion, this cushion is breathable, washable, and digitally customizable. And, crucially it could help enhance the quality of life of wheelchair users by helping to prevent pressure injuries.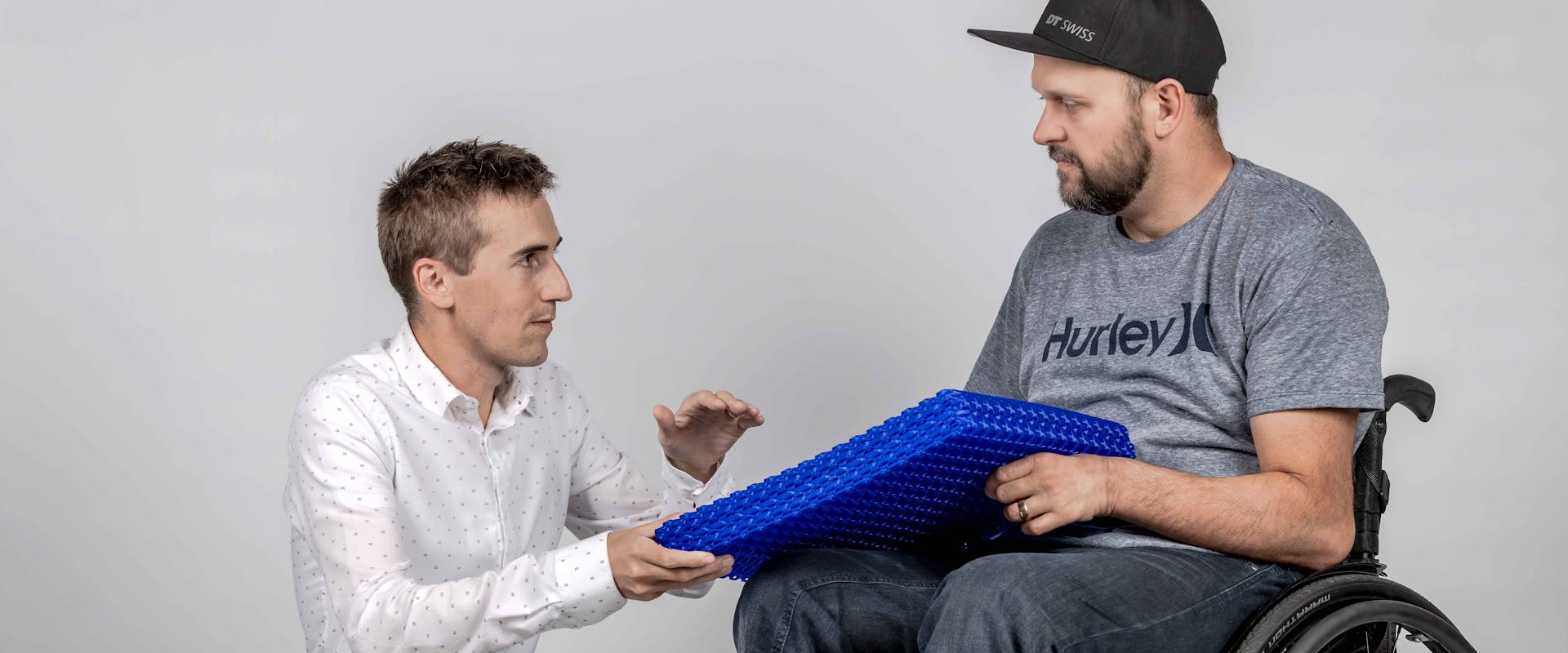 © Schweizer Paraplegiker-Stiftung
For many people, walking up and down stairs, getting on or off public transportation, or running errands is a routine part of daily life. However, for those with a mobility/physical impairment who use a wheelchair, these seemingly simple tasks can be extremely challenging. "In addition to the physical barriers they face, wheelchair users may experience additional issues," explains Christoph Joder, who works at CSEM, and is in charge of customer relations with the SPS. Wheelchair users may have to contend with health issues such as pressure injuries like pressure ulcers, also known as decubitus ulcers or bedsores. These occur as a result of long-term pressure on localized areas of skin causing chronic inflammation, which is difficult to manage and can be painful and costly to treat. 
High hopes for 3D-printed seat cushion
Christoph Joder was introduced to the topic of pressure injury prevention as part of a joint project between CSEM and the Swiss Paraplegic Foundation (SPS) in Nottwil, Switzerland – the core aim of which is to explore the potential of "open-cell" 3D printing. Christoph Joder explains: "Our printers give us the ability to produce objects with an open-cell structure." The open-cell characteristics mean that the resulting printed structures are, amongst other things, exceptionally good at distributing and thereby relieving pressure, and they are very flexible.  
CSEM originally developed this technique for a project with the Paul Scherrer Institute (PSI). "However, we were at a lunch presentation, expounding the benefits of the open-cell structure to an audience of SPS employees, when one of the participants spoke up," recalls Joder. "This particular individual happened to be a research associate with the SPS and also a person who uses a wheelchair. They saw the potential in the 3D print technology immediately. They asked CSEM's team whether it would be possible to use the 3D printer to make open-cell seat cushions. 
© Schweizer Paraplegiker-Stiftung
Breathable, washable, and digitally customizable
Custom-made support cushions and seat cushions play an important role in preventing pressure injuries, and related health issues in individuals who require them. However, until now the manufacturing process has been extremely laborious and expensive, with cushions being made individually by hand. Additionally, cleaning them can be challenging, which makes them less sanitary. "We collaborated closely with Andreas Gautschi, a project manager with the SPS and a wheelchair-using individual, to test whether – and how – we could print this type of cushion with an open-cell structure," continues Christoph Joder. To do this, they digitized an existing custom-made cushion, remodeled it on-screen and printed it.
The results were undeniable: Printed cushions have a consistent open cell structure, giving them better moisture-wicking and temperature-regulating properties than a conventional cushion. Printed versions are also easy to wash. In addition, the traceability of changes is hugely valuable from a regulatory point of view. However, the first prototype was still too heavy, and it took too long to print. Christoph Joder and his team therefore made selective adjustments to the structure keeping in mind the needs of all individuals and were able to eliminate these problems. "We are very proud of what we were able to achieve with the current design and are grateful for the immediately positive feedback we have received from everyone." 
On the look-out for a partner
In pursuit of creating the open-cell cushion structure to improve the comfort of wheelchair users and prevent pressure injuries, CSEM is actively seeking a partner. Together with the SPS, the company is now on the look-out for a transfer partner to commercialize and further customize this innovative product. CSEM recognizes that specialized medical markets can be small and regulatory requirements can be strict. Nevertheless, Joder is optimistic: "We remain confident about finding a partner and making this technology available to those who need it," he concludes.