CSEM joins a key consortium of ASTM International's Additive Manufacturing Center of Excellence
(En anglais uniquement)
CSEM has joined the ASTM International Consortium for Materials Data and Standardisation (CMDS) initiative, which is being run through the ASTM Additive Manufacturing Center of Excellence (AM CoE).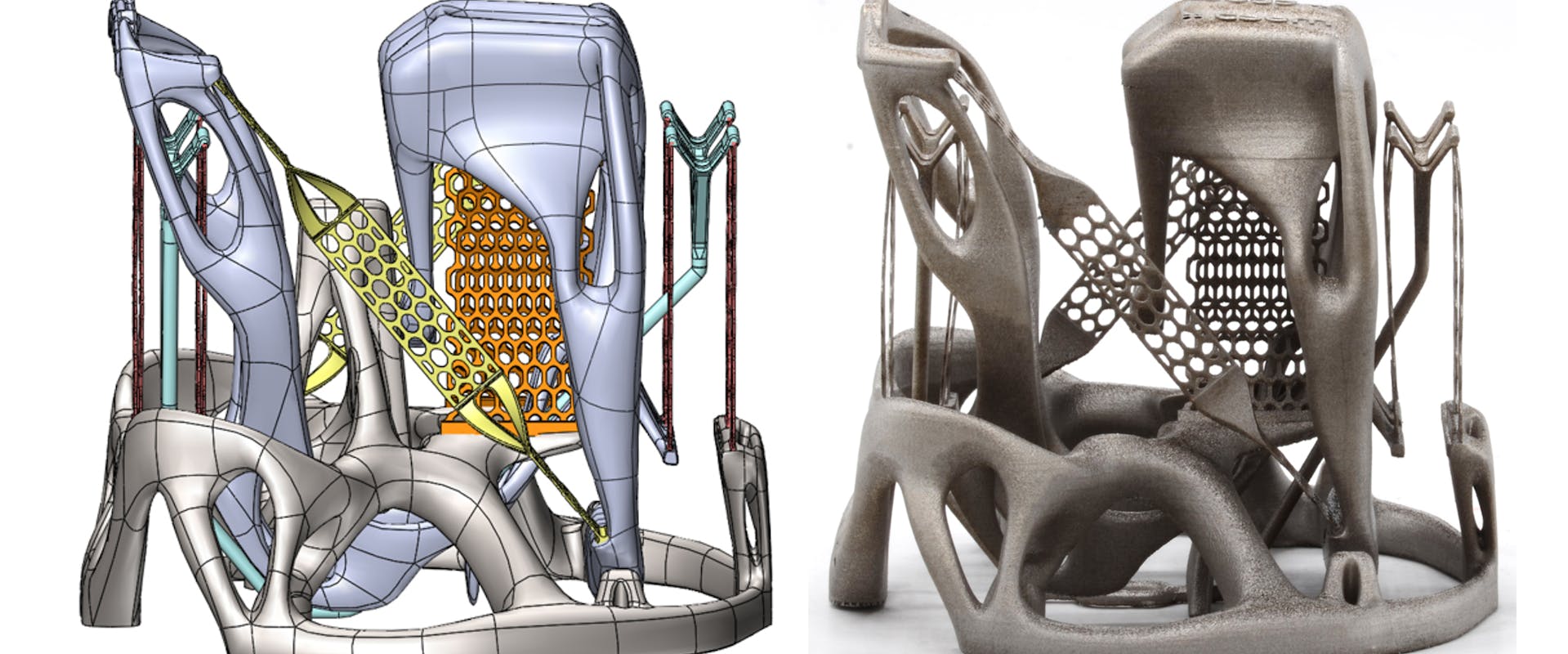 Example of a compliant mechanism for space applications developed at CSEM
The consortia for materials data and standardization (CMDS) enable companies of all sizes from across the additive manufacturing (AM) ecosystem to share material data and to collaborate on standardizing the requirements and best practices for generating materials data, as well as creating, maintaining, and managing the data needed to accelerate the industrialization and full adoption of AM technologies.
Companies from a wide range of industries need to develop comprehensive material datasets to safely introduce additive manufacturing into the design and production of future products. Complete datasets requested for part design and production control can cost upwards of 1 million US Dollars for a single material dataset depending on the desired properties.
The CMDS program brings together key organizations to standardize material data requirements and best practices and create shared high pedigree reference data sets to significantly reduce costs for individual member organizations. The initiative's approach is particularly focused on determining key process-structure-property relationships necessary to develop methods for generating machine agnostic materials data.

ASTM International's CMDS will help boosting AM industrial uptake
ASTM International's Additive Manufacturing Center of Excellence (AM CoE) CMDS program, established in 2022 by 21 companies and organizations, is now branching out beyond its initial focus on aerospace and defense to include members from the energy, oil and gas, transportation, and medical industries. The CMDS program recently announced the following new members:
ASTRO Mechanical Testing Laboratory
DSH Technologies
Dyndrite Corporation
Elnik Systems
Manufacturing Technology Deployment Group (MTDG)
Plastometrex
Sandvik Additive Manufacturing
SLM Solutions Group AG
and Swiss Technology Innovation Center, CSEM
Each year, the CDMS, under the direction of members and in consultation with key agencies, selects materials and application-specific properties (e.g., static, cyclic, thermal) of interest and conducts various projects that ultimately support the development of datasets and standards.
While members retain exclusive use of the full datasets to support their business, the knowledge gained will maximize AM adoption, inform new AM standards and specifications, promote consistency of data across the industry.

Working collectively to accelerate industry's AM must-have standards
For CSEM, membership in the CMDS program means promoting AM adoption in the industry and actively participating in the AM value chain. Among several AM techniques, two processes were selected, which are quite frequently used by industry: one focuses on laser powder bed fusion (PBF-LB) and the other on binder jetting technology (BJT). These workstreams focus on defining and executing projects to generate data on AM materials with high pedigrees of interest.
CSEM will benefit from the efforts of the consortium to accelerate adoption of AM technologies through standardization by:
Establishing requirements and developing best practices for creating robust AM materials datasets.
Consortium-funded R&D projects aiming to create common "reference" material datasets with high pedigree.
Maintain a secure data management system for members only
Share experience and consortium-approved material data with F42 standards development committees.
«I believe that this participation will increase the potential of AM in real industrial applications worldwide and help its further deployment in Switzerland. The benefits of additive manufacturing will be amplified, and industrial applications accelerated with the help of the CMDS program», states Olha Sereda, Additive Manufacturing & Component Reliability Group Leader from CSEM. 
Are you interested in CSEM's additive manufacturing capabilities? Contact us