Aktiia: optical blood pressure monitoring
For the first time, automated Optical Blood Pressure Monitoring for 24/7 use is now available in Switzerland, Germany, Austria, Ireland and France.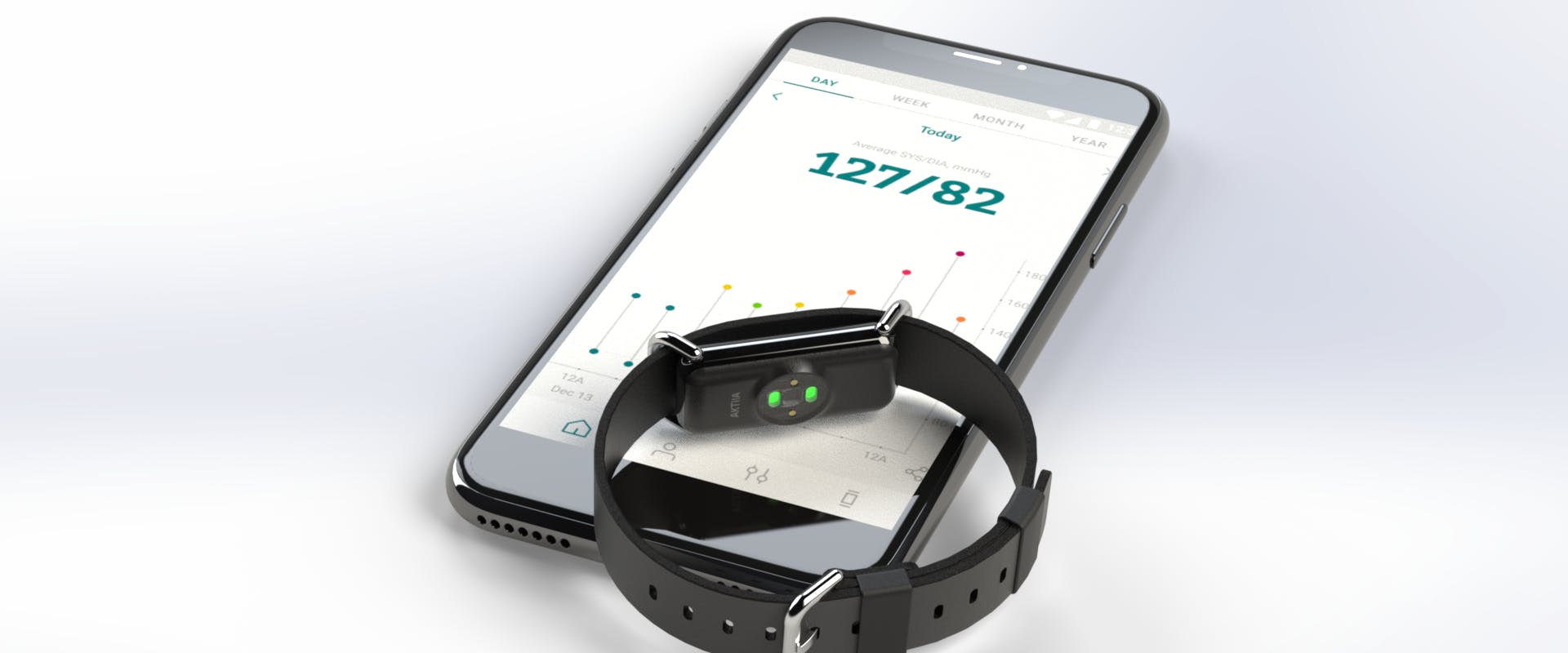 Aktiia's OBPM system has been  validated in multiple clinical studies , the results of which have been published in the renowned journal " Blood Pressure Monitoring ".
President of the Swiss Society of Hypertension, Dr. Gregoire Wuerzner, predicts that "Aktiia has the potential to bring about profound changes in the way we manage hypertension. As the principal investigator in Aktiia's clinical trials, I am pleased to see that our studies show that Aktiia is accurate and that it easily allows patients and their physicians to track their blood pressure on a daily basis."
Millions of people worldwide are at risk for severe health complications or even death due to untreated or uncontrolled hypertension. Specifically, blood pressure increases during the night have been linked to cardiovascular diseases that cause a stroke or heart attack. This link has been the subject of many peer-reviewed studies, like the  Dublin Outcome Study , published in the "Hypertension" journal, which involved over 5,000 subjects. A way to reduce this risk is to measure more frequently patients' blood pressure, resultantly providing physicians with more data to accurately diagnose and create tailored treatment plans. Personalized treatment plans can cover, for example, medication and dosage, adjusting the patient's sleep pattern, and promoting healthier lifestyle choices.
On average, a person with hypertension measures their blood pressure just once a week due to the inconvenience and discomfort associated with a traditional cuff. Aktiia's OBPM system automatically takes blood pressure measurements over 100 times a week, day and night with minimal effort required by the wearer. The wearer's data is then visualized in a free smartphone app, and with a simple click, a digital summary can be shared with their physician or family member. Aktiia has received a CE Mark as a Class IIa medical device - signifying that it meets Europe's high safety, health, and environmental protection requirements.
How It Works
Aktiia's OBPM algorithms analyze data taken from optical sensors worn on the wrist and then provide blood pressure values using photoplethysmography (PPG), which analyzes the changing diameter of the arteries with each heartbeat. As the optical measurement is automatic, it allows wearers to stay calm and they don't need to worry about interrupting their day or sleep to measure their blood pressure. Additionally, the system allows measurements in all positions, unlike traditional cuffs that need a specific sitting and arm position.
"After 15 years in development, at CSEM the prestigious Swiss Research & Development Center, and almost two million blood pressure readings, Aktiia has cracked the code to bring to market the world's first automated 24/7 blood pressure monitoring system," reflects Mike Kisch, Aktiia's CEO.
Aktiia's Co-Founder Dr. Mattia Bertschi notes that "standard cuff-based blood pressure monitoring technology has hardly changed in over a century. After a lot of hard work and challenges along the way, we are proud to finally give patients and physicians around the world an easier, more comprehensive way to measure blood pressure."
Pricing & Availability
Aktiia is now available to purchase in Switzerland, Austria, France, Germany, and Ireland. The 24/7 Blood Pressure Monitoring service includes the Aktiia Bracelet, the Aktiia Cuff (used for calibration once per month), and access to the Aktiia app and services. Customers can choose between two pricing options.
Option 1: includes a one-time purchase of the Aktiia Bracelet for 149.99 CHF alongside a monthly subscription to the Aktiia app and services for 6.99 CHF inc. Tax / month.
Option 2: includes the Akiita Bracelet, as well as 12 months subscription to the Akttia app and services for 219.99 CHF. After the 12-month subscription period ends, we request that customers pay 6.99 CHF inc. Tax / month to continue to access the Aktiia app and services).
About Aktiia
Aktiia was founded in Switzerland in May 2018 out of a passion to turn insights into action in the fight against hypertension. The team includes some of the world's leading scientific and technical experts in optical blood pressure monitoring, including CTO,  Dr. Josep Sola , a pioneer in cuffless blood pressure monitoring and editor of "The Handbook of Cuffless Blood Pressure Monitoring". The product's core technology was first developed at CSEM, by a team led by Aktiia's co-founders, Dr. Mattia Bertschi and Dr. Josep Sola.
To learn more, visit  Aktiia.com .