CSEM and ECAL create art using advanced technology
Students from the Lausanne University of Art and Design (ECAL) have teamed up with CSEM's engineers to create an avant-garde iridescent jewelry collection. The designs include two different nanotechnologies developed at CSEM, which can be found in microchips or holographic anti-counterfeiting prevention tools. The jewelry pieces' shimmering surfaces mimic natural optical effects, like on the wings of butterflies, beetle shells, or the inner shell of oysters.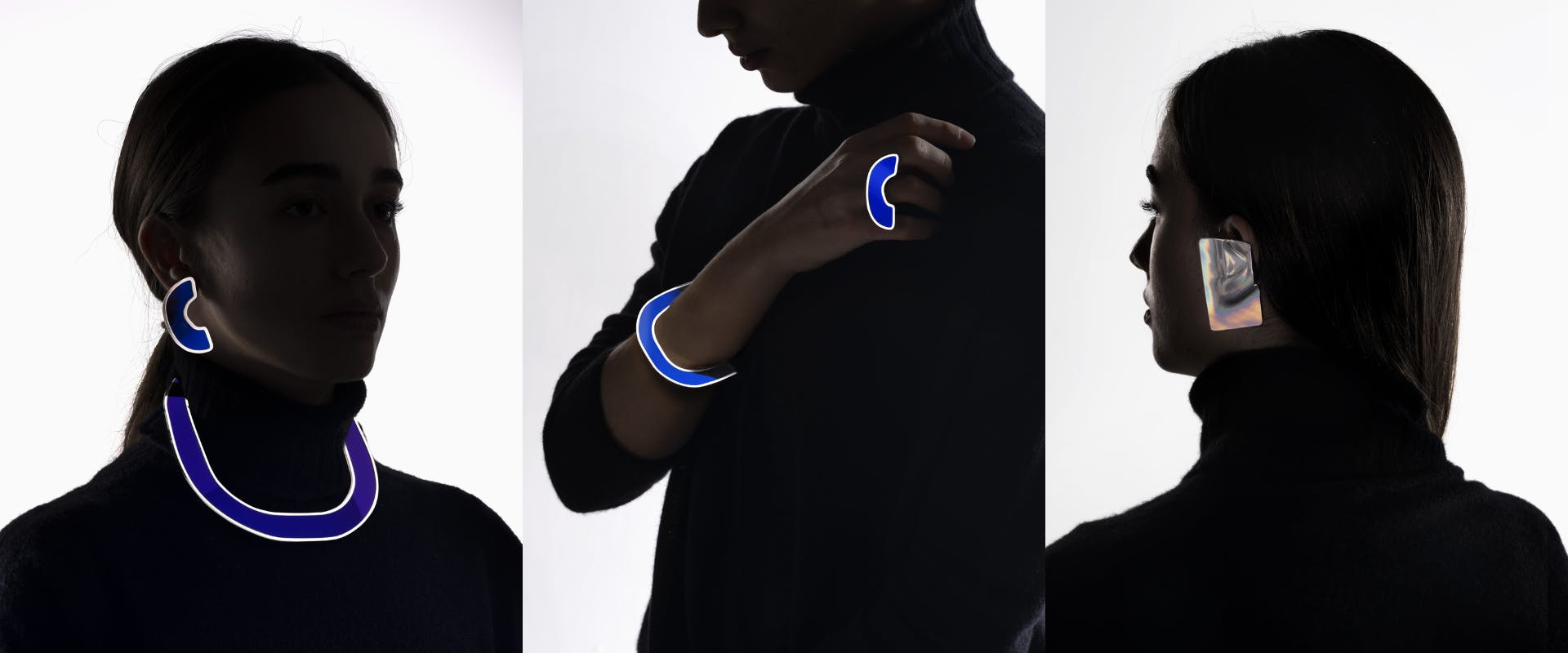 Créations Caroline Lejeune (photo 1 & 2), Sarah Remy (photo 3). Photo©ECAL_Santiago Martinez
The wings of morpho butterflies are a stunning shade of blue, yet they contain no pigment. Their iridescent color comes from millions of nanometric structures embedded in the wings' surface, reflecting specific light wavelengths. Depending on the structures' shape, size, angle, and spacing, the colors can change in intensity, becoming darker or lighter – to the point of disappearing altogether – when viewed with the naked eye.
CSEM's engineers have been working for years to replicate these structures, which it has applied to technologies ranging from microchips to anti-counterfeit holographic solutions for passports. But beyond their functional properties, the nanostructures also have a unique aesthetic appeal. That's what drew the group of design students from ECAL. They joined forces with CSEM to create a collection of original, sophisticated jewelry that ingeniously combines modern craftsmanship and nanotechnology. The prototype jewelry pieces are currently displayed in the entrance foyer of CSEM's Neuchâtel site.

Create. Innovate. Collaborate.
The international team of students from ECAL were enrolled in the university's Master of Advanced Studies in Design for Luxury & Craftsmanship program. They worked alongside CSEM and the Panter&Tourron design studio in Lausanne as part of the project, who supported and provided guidance around creativity, innovation and collaboration. The jewelry pieces designed by the students showcase the beauty inherent in two different CSEM nanotechnologies inspired by nature:
Nanobeads deposited on steel in a single layer, resulting in a shimmering finish that resembles mother of pearl (see photos 4 and 6).
A thin layer of silicon nitride (a tough, white ceramic) deposited on silicon plates to create light wave interference – the same phenomenon occurs on soap bubbles and the shells of some insects, for example (see photos 1, 2, 3, and 5).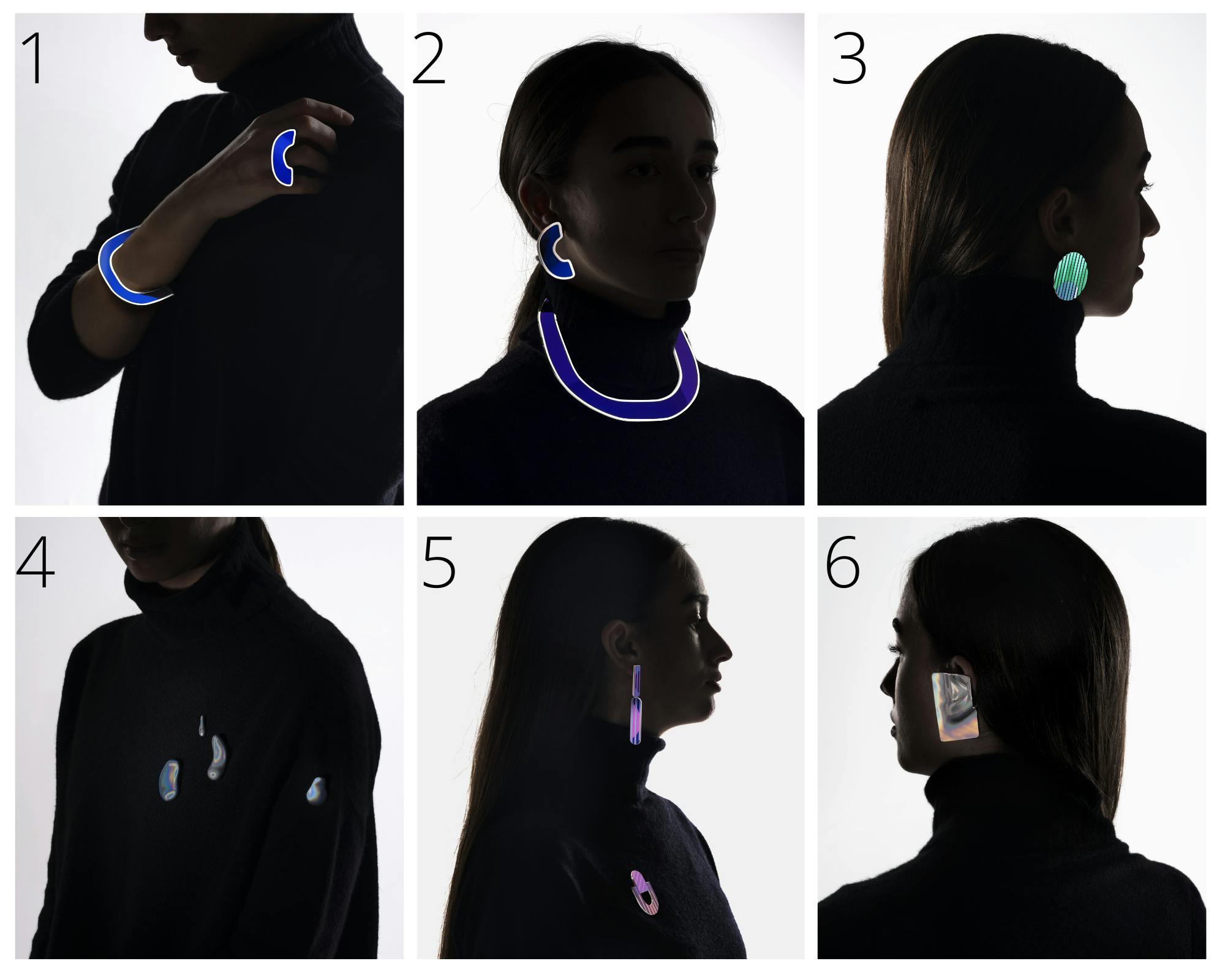 1 and 2 : Caroline Lejeune (Switzerland) 3 Yosuke Shimano (Japon) 4 Carlotta Pons Pardo (Spain) 5 Sarah Yao (Canada) 6 Sarah Rémy (France)
 "While pigments and dyes contained in ink and paint fade over time, these 'structural colors' never lose their shine," says Nicolas Blondiaux, an engineer at CSEM and the project manager. "It's a new, optical way of producing color."
CSEM's engineers selected five of the students' designs that they then enhanced with nanotechnology.
Visiting the jewelry is by request only. Please register your interest at info@csem.ch

Credits: Lausanne University of Art and Design (ECAL)
Director : Alexis Georgacopoulos
Program manager : Nicolas Le Moigne
Professors : Stefano Panterotto & Alexis Tourron (Panter&Tourron)
Assistant : Georg Foster
Students : Caroline Lejeune (Switzerland), Carlota Pons Pardo (Spain), Sarah Rémy (France), Yosuke Shimano (Japan), Sarah Yao (Canada)
Photographs: Santiago Martinez