CSEMnext | Sensoren für die Zukunft schon heute
The event will be held in German, with one speaker presenting in English.
Wir zeigen in drei packenden Kurzvorträgen wie die Sensoren der Zukunft schon heute sicherer werden, weniger bis gar keine Batterie/Speisung mehr benötigen, und robuster, zuverlässiger und grüner sind – mit Technologie aus Graubünden und der Schweiz.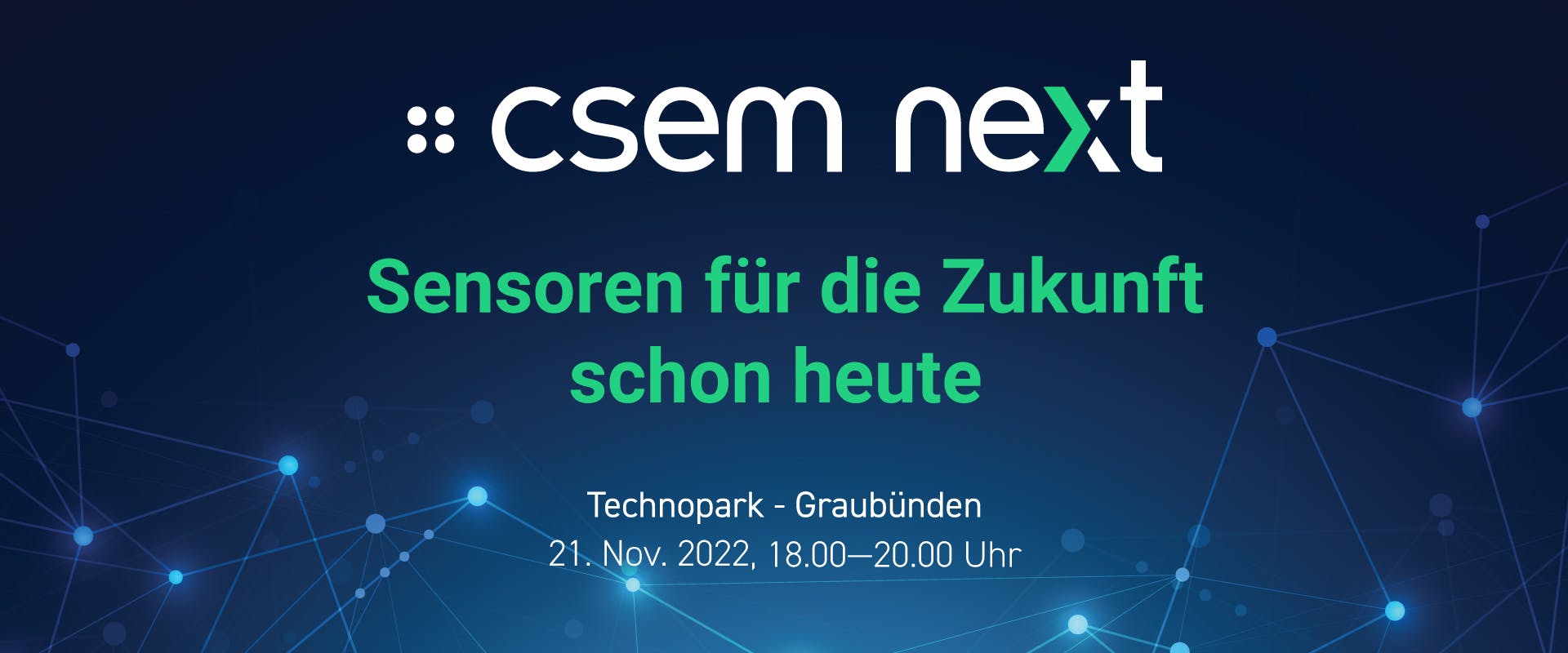 Ort & Datum
Es freut uns, Sie zu unserem CSEMnext – Sensoren für die Zukunft schon heute – am Montag, 21. November 2022 um 18:00 Uhr im Technopark Graubünden einzuladen.
Praktische Informationen
Bitte benutzen Sie nach Möglichkeit den ÖV für Ihre Anreise. Der Technopark Graubünden liegt unmittelbar beim Bahnhofplatz Landquart, der mit der SBB und RhB im Halbstunden– oder Stundentakt erreichbar ist. Ein öffentlicher Parkplatz befindet sich beim Bahnhof. 
Der Event wird auf Deutsch stattfinden, ein Referent wird auf Englisch vortragen. 
17:00
Willkommen, Philippe Steiert, VP & Direktor Regionalzentren, CSEM
17:10
Sensoren für Wearables, David Schmid, CSEM
17:25
IoT & vision sensors, Philippe Dallemagne, CSEM
17:40
Der Körper als Energiequelle, Franco Membrini, Mithras
Anmeldung
Die Teilnahme ist kostenlos. Wir bitten Sie, sich bis Donnerstag, 17. November 2022 mit untenstehendem Link "HIER" anzumelden.
Indem Sie auf  'Zur Veranstaltung anmelden' (Register to the event) klicken, stimmen Sie unserer Online-Datenschutzrichtlinie  zu und werden zu Microsoft Dynamics 365 Marketing, unserem Online-Anmeldedienst für Veranstaltungen, weitergeleitet.