CSEMnext | Predictive Maintenance – Predictive Quality
The event will be held in German.
In den vergangenen Jahren hat CSEM mit Industriepartnern Technologien rund um die Datenanalyse in Produktionsanlagen entwickelt. Die industrielle Anwendung steht vor dem Durchbruch. Wir zeigen, was heute möglich ist.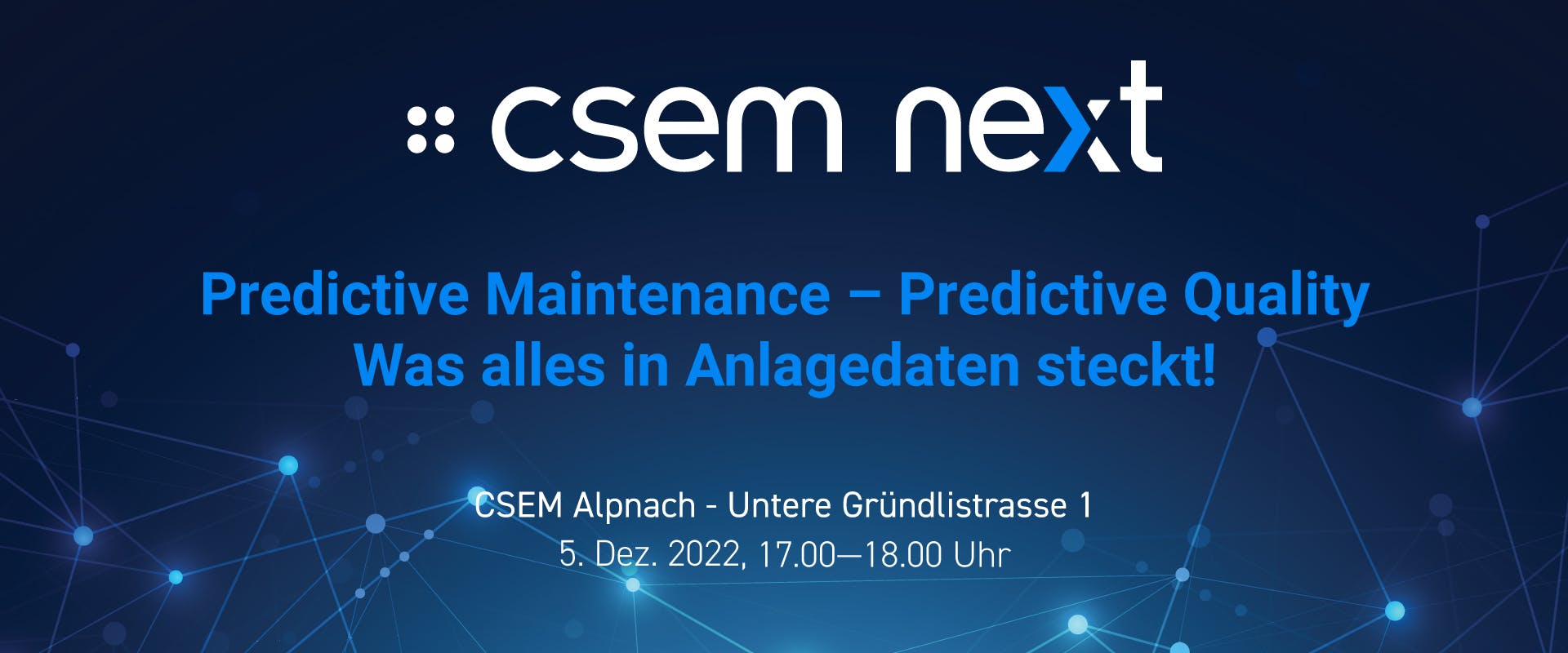 Grosse Schlagworte wecken in der Industrie Erwartungen: «Big Data» – «Künstliche Intelligenz» – «Predictive Quality». Wie kann man die Produktion verbessern, Anlagen besser verstehen, kritische Situationen früher erkennen? Lässt der Maschinenstatus Rückschlüsse auf die Produktionsqualität zu? Was steckt alles in den Daten? Eine Zentralschweizer Initiative, geführt vom CSEM in Alpnach, hat zusammen mit der Aurovis AG, KNF Flodos AG, maxon motor ag und Elekon AG eine Musteranlage aufgebaut und das Problem angepackt.
Am kommenden CSEM Next in Alpnach möchten wir den Stand der Entwicklungen zeigen, erste Industrialisierungsansätze vorstellen und zusammen mit Firmenvertretern aus der Zentralschweiz diskutieren, wohin die Reise gehen könnte.
Dieses Event ist in Partnerschaft mit digitalswitzerland und zentralschweiz innovativ.
Ort & Datum
Es freut uns, Sie zu unserem CSEMnext am Montag, 5. Dezember 2022 um 17:00 Uhr im CSEM in Alpnach zugrüssen.
16:00
Begrüssung, Alexander Steinecker, Head Regional Development & Relations, CSEM
16:10
«Was alles in Anlagedaten steckt!», Mario Russi, CSEM
16:40
Diskussion mit Industrievertretern aus der Zentralschweiz
-  Till Schöpe, Mitbegründer, Alpamayo GmbH
- Stefan Müller, CTO, maxon motor ag
-  Roger Schelbert, CEO, Aurovis AG
Anmeldung
Die Teilnahme ist kostenlos. Wir bitten Sie, sich bis Donnerstag, 1. Dezember 2022 mit untenstehendem Link "HIER" anzumelden.
Indem Sie auf  'Zur Veranstaltung anmelden' (Register to the event) klicken, stimmen Sie unserer Online-Datenschutzrichtlinie  zu und werden zu Microsoft Dynamics 365 Marketing, unserem Online-Anmeldedienst für Veranstaltungen, weitergeleitet.