CSEMnext | Aus CSEM Muttenz wird CSEM Allschwil
Sind Sie neugierig zu erfahren, welches Potential im Swiss Innovation Park mit CSEM schlummert? Um unsere neuen Räumlichkeiten gebührend einzuweihen, laden wir Sie gerne zu unserem exklusiven Netzwerk-Apéro ein.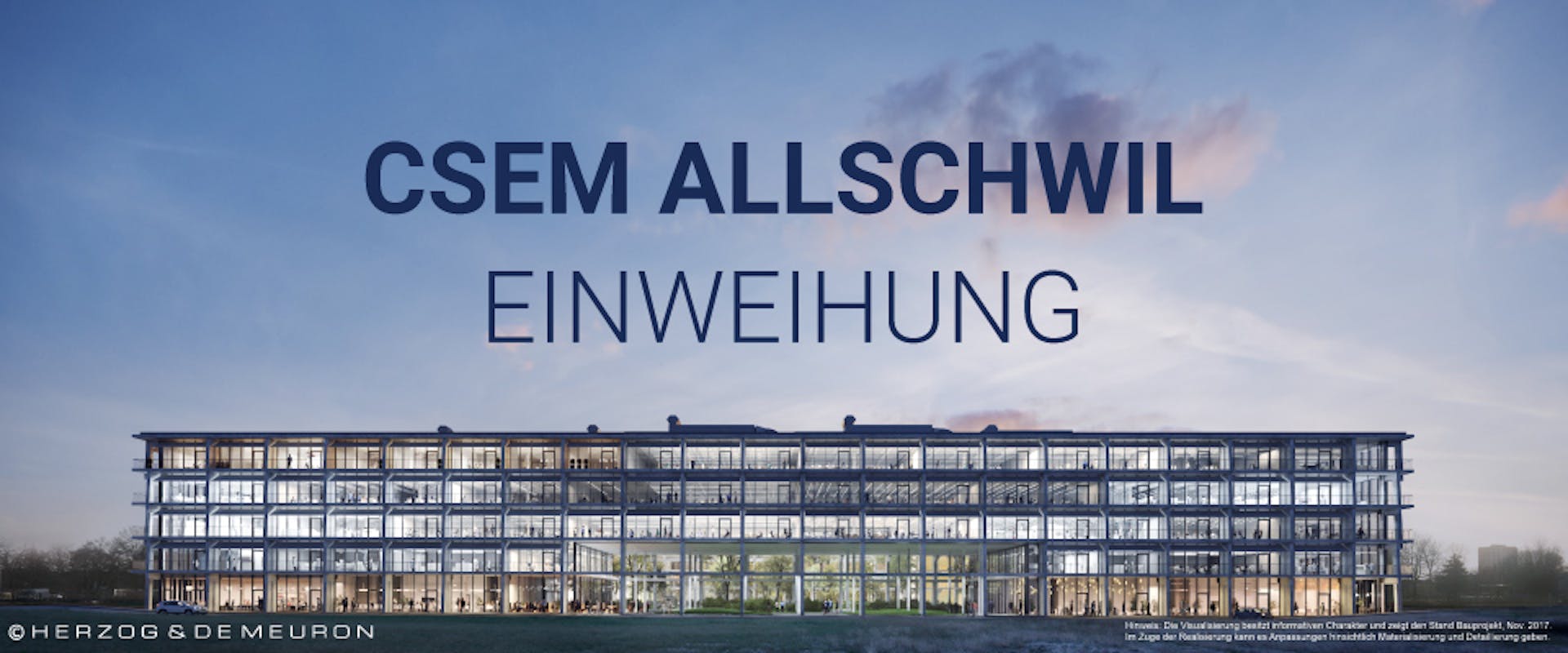 Sie erfahren aus erster Hand wie wir mit Life Sciences Technologien, künstlicher Intelligenz und vielen weiteren Technologien Mehrwert für die Region schaffen. Werfen Sie zudem einen Blick hinter die Kulisse und besichtigen Sie unsere modernen Labors, wo wir die Biosysteme von morgen sowie viele weitere Innovationen schaffen werden.
Vor genau 14 Jahren entstand auf dem Rosental-Areal der erste Basler CSEM Standort. Mit der regionalen Verankerung schaffen wir für die Basler Unternehmen einen direkten Zugang zum gesamten Know-how von CSEM sowie seinen Patenten. Viele Erfolgsgeschichten wurden dadurch geschrieben. Indem wir nun auch noch im SIP in ein pulsierendes Start-up- und Innovations-Ökosystem eingebettet sind, scheinen die Möglichkeiten grenzenlos.
Ort & Datum
Donnerstag, 1. Dezember 2022 um 17:00 Uhr im SIP Allschwil
Es freut uns, Sie zu unserem CSEMnext – Aus CSEM Muttenz wird CSEM Allschwil – zu begrüssen.
Praktische Informationen
16:15
Vorträge und Diskussion mit
- Philippe Steiert, Director of CSEM Regional Centers, Grusswort
- Alexandre Pauchard, CEO, Wie Unternehmen der Biowissenschaften von der Zusammenarbeit mit dem CSEM profitieren können
- Samantha Paoletti und Vincent Revol, Co-Heads Life Science Technologies, Die Bedeutung der Drehscheibe Allschwil für die regionale Industrie
- Felix Kurth, Group Leader Biosystems Engineering, Innovationen für Point-of-Care und Einzelzelltechnologien
- Moritz Kirschmann, Group Leader AI for Life Sciences, Welche Erkenntnisse aus der Analyse von Omicsdaten gewonnen werden können
Anmeldung
Die Teilnahme ist kostenlos. Wir bitten Sie, sich bis Freitag, 25. November 2022 mit untenstehendem Link anzumelden.
Indem Sie auf  'Zur Veranstaltung anmelden' (Register to the event) klicken, stimmen Sie unserer Online-Datenschutzrichtlinie  zu und werden zu Microsoft Dynamics 365 Marketing, unserem Online-Anmeldedienst für Veranstaltungen, weitergeleitet.